The promise of blockchain and crypto: Can fintech move the financial inclusion needle?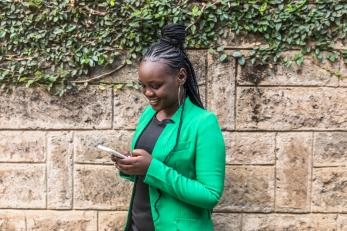 December 20, 2021
Mercy Corps Ventures, the venture capital arm of Mercy Corps, invests in startups building climate resilience and financial resilience for communities across the world. We've supported 32+ ventures to scale and raise over $125 million in follow-on capital. Read on to learn about the role our ventures play in building a world where everyone can prosper.
"Here we are in 2021, I feel that we're in a different phase now, it's not just speculative, it's not just hype," says Ken Weber, Head of Social Impact at Ripple, on the promise of blockchain and crypto. The fintech ecosystem is expanding at an exponential pace, so it's time to examine what this really means for financial inclusion, particularly in frontier markets.
In many countries we're seeing just how fragile the current banking and financial system really is, which means that we not only need to ensure inclusion of the 1.7 billion people that remain unbanked, but also of those who are losing financial access or life savings through socio-economic instability, climate shocks, and other highly contextual challenges.
Alongside this, early models of financial inclusion assumed that the base layers of banking and finance would remain constant, but that is not proving to be the case today. Blockchain and crypto are transforming the core infrastructure of most financial products, driving profound change.
So what are the implications for the unbanked and vulnerable groups? How can we invest in dynamic teams that are building tech enabled solutions that create new pathways for financial resilience? How can we ensure that those who have previously been left behind are now at the center of financial product design?
Watch the UBRI Connect 2021 panel with Scott Onder, Senior Managing Director of Mercy Corps Ventures, Dante Disparte, Chief Strategy Officer and Head of Global Policy at Circle, Laura Chioda, Director of Research at Berkeley Haas, and Ken Weber, Head of Social Impact at Ripple.
Ready to donate cryptocurrency?