Agri-Fin Mobile program provides big benefits on small phones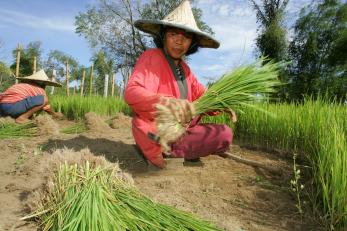 May 17, 2013
Mobile technology has been described as the single most transformative tool for development in this century. There are 3.5 billion mobile connections in Africa, the Middle East, Latin America and the Asia- Pacific regions.
That's why Mercy Corps is exploring ways to leverage the power, convenience and prevalence of mobile phones in our programs. They are allowing indigenous communities in Bolivia to more quickly gain title to their land. They are uniting young people in Kenya to promote peace and improve their communities. And in Indonesia, Uganda and Zimbabwe, they are helping smallholder farmers boost their harvests and incomes.
Financial services, market information and agricultural tips on one platform
Our Agri-Fin Mobile ("agriculture" plus "financial" services) program, launched in July of 2012 with support from the Swiss Agency for Development and Cooperation, brings together local mobile tech companies, financial institutions and research organizations to provide "bundled" support for smallholder farmers. We're integrating local financial services, market information and agricultural tips into a single, comprehensive mobile phone-based package.
The potential for bundling technology is enormous, given that even in remote areas most farmers have access to mobile phone technology and service. By providing up-to-date market pricing information, weather forecasts, mobile banking, and direct links to market activity, like daily market prices and fertilizer information, Agri-Fin Mobile keeps farmers connected even if they are far away.
Likewise, connecting various services under the Agri-Fin umbrella provides unique incentives for business partners to get involved — which is key to its sustainability. They'll benefit from an expanded customer base, enhanced customer loyalty, improved data regarding credit risk, new and increased revenue streams, and more stabilized supply chains. This means that Mercy Corps can be confident knowing these services will continue to be provided for farmers long into the future.
The end result? Everyone's business profits from the plan, especially smallholder farmers.
But, before the Agri-Fin Mobile platform gets fully up and running, our teams first pinpointed what smallholder farmers most wanted from the bundled services, to make sure they would be most impactful. To do this, Agri-Fin Mobile teams traveled to rural villages in Indonesia, Uganda and Zimbabwe conducting baseline surveys.
The teams discovered that farmers' livelihoods were most affected by poor market infrastructure, lack of access to financial systems, unpredictable pest and disease management issues and unfair trading systems mostly due to a lack of information. But there are, of course, unique factors in each country.
Local partners address specific needs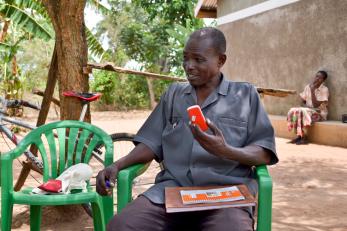 Agri-Fin Mobile's pilot programs are now tailored to address these specific needs.
To keep farmers connected in the island nation of Indonesia, Agri-Fin Mobile is using an existing mobile agricultural networking service, called LISA, to connect 18 partners, including Bank Andara, a wholesale bank for microfinance institutions founded by Mercy Corps; 8villages, a mobile platform and LISA's parent company; and the Indonesian Ministry of Agriculture.
The first Indonesian "bundle" that Mercy Corps developed pairs 8villages' LISA product with the Ministry of Agriculture. These partners are developing a network of agricultural extension workers equipped with technology to visit far-flung farmers.
The Ministry of Agriculture and LISA partnership addresses an issue that arose in Mercy Corps' surveys: The farmers were overwhelmingly interested in working with familiar, trusted sources — like government extension workers and local farmer groups. The hope is that the partnership will improve the credibility of less-seasoned extension workers among farmers by equipping them with information from well-established, trusted sources.
In Uganda, Mercy Corps is teaming up with its first partner Mobipay, a financial services technology provider, to expand its Kenyan-based Agrilife service to Ugandan smallholder farmers. Agrilife provides a cloud-based service that records farmers' production capabilities and projects their future production levels, making it easier to assign credit ratings and helping farmers to access credit.
The service will be introduced through government agricultural extension officers, and will be bundled with agricultural advisory information and input supplier contact information to help Ugandan farmers overcome financial and agricultural barriers.
In Zimbabwe, Mercy Corps is developing an exciting partnership with a mobile phone operator and its mobile money arm that will address the broad financial and informational needs of rural farmers.
Mercy Corps continues to collect and analyze data alongside its network of unconventional partners to drive strategies that will sustainably lift farmers out of poverty. Agri-fin Mobile's "bundled" services are paving the way for new forms of business partnerships and models to help rural farmers embrace the mobile age.
If current Agri-Fin Mobile successes are any indicator of future performance, several years from now many more rural farmers will be plugged into the "bundled" mobile world.
LEARN MORE: Follow the development of Agri-Fin Mobile in our Research & Resources section ▸