7 reasons to love Mercy Corps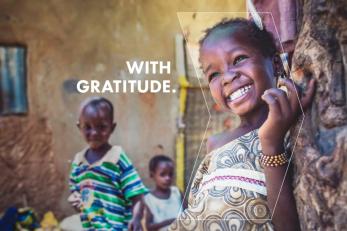 April 19, 2017
30 million reasons to join us
Mercy Corps was just named America's "Brand of the Year" and "Most Loved Brand" in the International Aid Nonprofit category of the Harris Poll's 2017 EquiTrend® brand survey*. We're honored that Mercy Corps and our important work has been recognized.
To celebrate, we're sharing seven reasons to love our organization:
We helped transform the lives of more than 21 million people in more than 40 countries around the world in 2016. From empowering young girls to develop leadership skills to providing refugees with essential supplies, we're committed to helping people triumph over adversity and build stronger communities from within.
We're there during conflict and disaster. We deliver urgently needed items such as food and clean water during humanitarian emergencies, like the war in Syria and the famine in South Sudan. We strive to ensure people get the supplies they need, when they need them, so they can survive through crisis.
We're building a stronger tomorrow. We develop long-term solutions to chronic challenges like hunger and poverty by addressing their root causes and offering support through health and nutrition education, job training and small-business grants. Learn more about our mission ▸
We're bringing refugees and their hosts in local communities together. Whether it's building a new health clinic, more classrooms or a playground, we help them collaborate on important projects, weave a strong social fabric together and build better lives for themselves and their families. How we're bringing Syrians and Jordanians together through outdoor adventures ▸
We ensure that our resources are spent wisely and efficiently. That's why we've been accredited by the Better Business Bureau, given one of the highest rankings for transparency and accountability by Charity Navigator, and awarded an A- in financial efficiency by CharityWatch. Read more about our endorsements ▸
We live where we work. About 90 percent of our team members are from the countries where they work. They speak the language, know the culture and deeply understand the local context. What we look for in our team ▸
We're surrounded by change makers. From our supporters and partners to our board of directors to our team around the world, we are grateful for the people who champion our mission every day. We see the possibility of a better world, and so do they — and so do people like you. For that, we thank you.
*Disclaimer: Mercy Corps received the highest numerical Equity Score and the highest numerical score relating to Love among International Aid Nonprofit brands included in the 2017 Harris Poll EquiTrend ® Study, which is based on opinions of 102,617 U.S. consumers ages 15 and over surveyed online between December 30, 2016 and February 21, 2017. Your opinion may differ. "Highest Ranked" was determined by a pure ranking of a sample of International Aid Nonprofit brands.
Help us provide even more support to the people who need us around the world.