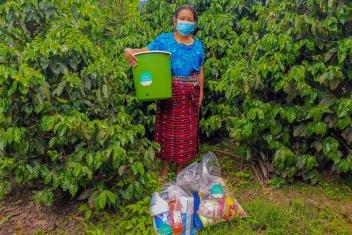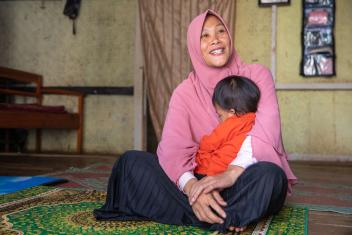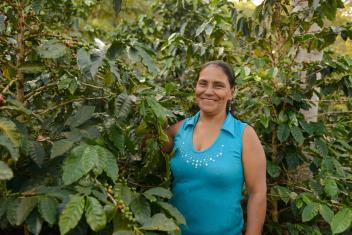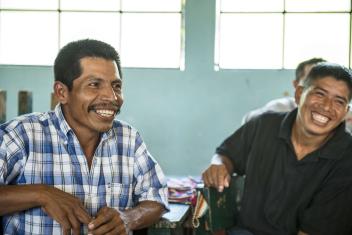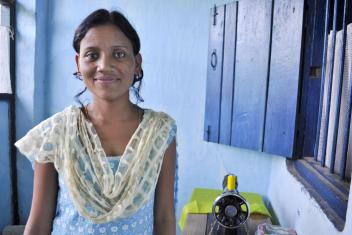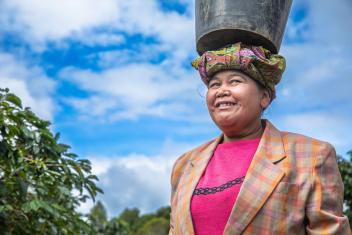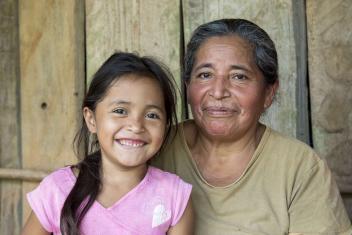 For twenty years, Mercy Corps and The Starbucks Foundation have been at the forefront of supporting coffee-, tea-, and cocoa-growing communities around the world, uplifting women and girls through leadership and economic opportunities, delivering water, hygiene and sanitation services, and responding to disasters. Together, we've reached more than 1.7 million lives in 10 countries by partnering with local communities to build integrated initiatives that create long-lasting, sustainable change.
To create a sustainable future of coffee, we must care for the well-being of the farmers and communities that grow coffee, tea, and cocoa around the world.

Michelle Burns,

Executive Vice President of Global Coffee, Social Impact and Sustainability, Starbucks Coffee Company, and Board Member, The Starbucks Foundation
Making a difference, together
Mercy Corps' partnership with The Starbucks Foundation is special. We know that by coming together, alongside coffee-, tea- and cocoa-growing origin communities, we can address some of the greatest challenges of our time, including gender inequality, climate change, COVID-19, and water and food insecurity.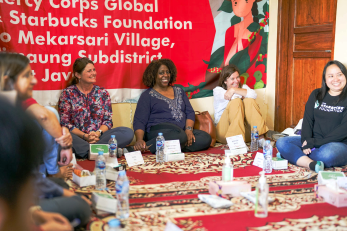 Creating lasting, sustainable change alongside communities
Working together, we've been able to do so much more than we could on our own.
It all began with a multi-level innovative partnership in 2003 to address the needs of tea-growing communities in India. For 15 years, our flagship program, Community Health and Advancement Initiative (CHAI) provided youth vocational training, improved water and sanitation systems, supported improved community health outcomes, and encouraged sustainable livelihoods impacting over 112,900 people in Darjeeling and Assam, India, and across cardamom-growing villages in Guatemala.
In India, our tutoring program on tea estates helped bridge the learning gap for students to complete high school. As few as 30% of students on tea estates pass the annual High School Leaving Exam, but among those receiving tutoring, the pass rate rose to 70%. The program also provided scholarship funds to the highest-performing students to help cover the cost of relocating from rural tea estates to urban centers for university.
At the onset of the global pandemic in 2020, we were able to leverage our joint networks, including The Starbucks Foundation's partners, farmer groups, cooperatives, local government, and civil society groups to share COVID-19 messaging as broadly as possible to help prevent the spread of the virus and keep farmers and their families from communities in Indonesia, Colombia, Guatemala, India, Ethiopia, and Kenya safe. We also provided critical support to communities by distributing masks, sanitation supplies, and handwashing stations.
In 2021, Mercy Corps and The Starbucks Foundation launched an exciting initiative called "Brewing Change: Women's Empowerment in Coffee Origin Communities" – a suite of integrated programs that break down barriers for women to access economic opportunities and promote clean water and sanitation services within Indonesia, Guatemala, and Colombia.
Our current programs focused on women's empowerment in coffee-origin communities are contributing to progress towards The Starbucks Foundation's goal to positively impact 1 million women and girls in coffee-, tea-, and cocoa-growing communities by 2030.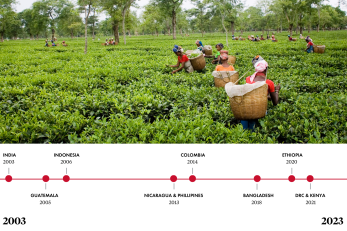 Taking bold action to build climate resilience
For decades, Mercy Corps has been helping communities rise to meet the challenges of climate change. Mercy Corps has responded to nearly every global natural disaster in the last twenty years and partnered across borders, sectors, and silos to support communities of people with the tools and resources to cope during crisis, adapt to evolving challenges, and thrive into the future.
As the climate crisis intensifies—the communities that are least responsible for it are the ones most devastated. Extreme weather, climate-related disasters, and climate stressors are hitting communities that are already struggling to recover from the last event, making it difficult for them to prepare for the future and break the disaster-recovery cycle.
Mercy Corps is launching a climate campaign to exponentially advance climate resilience solutions for communities globally. The Starbucks Foundation recognizes that coffee-, tea-, and cocoa-growing origin communities around the world are among those disproportionately affected by the ongoing impact of climate change and have committed to a new multi-year investment in Mercy Corps' climate campaign to support origin communities to build climate resilience.
Our longstanding and trusted partnership with The Starbucks Foundation has allowed us to lean into our respective expertise and truly collaborate around our shared vision to strengthen communities. Together we are re-envisioning a more equitable, sustainable, and resilient world.

Tjada D'Oyen McKenna,

Chief Executive Officer, Mercy Corps
Mercy Corps' climate resilience campaign
Mercy Corps envisions a world where the people already experiencing the consequences of the climate crisis are able to cope, adapt, and build lasting resilience—through proven, climate-smart solutions tailored to each community's unique needs, systems, and contexts.
Mercy Corps is calling on the power of philanthropic and private sectors to invest meaningfully and comprehensively in our climate solutions. Mercy Corps urges individuals and companies interested in maximizing their impact to consider providing funds to both Mercy Corps and Mercy Corps Ventures, our impact investment arm, to help us bring transformational change alongside communities.