Urgent: Extreme weather events threaten vulnerable communities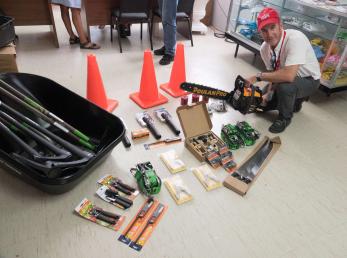 In the wake of Hurricane Fiona, Mercy Corps is surging support to local organizations we have worked with since Hurricane Maria in 2017 so they can distribute urgently needed items like food, potable water, and hygiene products. The quick activation of Mercy Corps-supported Resilience Hubs after Hurricane Fiona illustrates how community organizations know their community needs best and are the best first responders during emergencies.
Extreme weather events like hurricanes and flash floods are evidence of a rapidly changing climate — and people living in poverty often suffer the most when storms hit. In places like Puerto Rico, and Pakistan, unpredictable weather has left hundreds of vulnerable communities displaced and in need of assistance. Mercy Corps is helping families prepare for and respond to natural disasters to build stronger, more resilient futures.
Give today to help us provide urgently needed relief including emergency cash, food, clean water, and long-term support that communities can use to prepare for and enhance resilience to extreme weather events like Hurricane Fiona in Puerto Rico, and many other crises around the world.
Mercy Corps teams are already on the ground where help is most needed. We work in more than 40 countries alongside communities as they prepare for, protect against, and recover from crisis.
86% of our expenses funded program services over the last 5 years.
Learn more
Charity Navigator
BBB
GuideStar
Charity Watch
Over the last five years, we have spent 86% of our resources on programs that help people in need. Charity watchdog groups give us their highest ratings for accountability, transparency and efficiency.
---
Mercy Corps is a 501(c)3 charity.
Your gift is tax-deductible as allowed by U.S. law.
Mercy Corps is a 501(c)3 charity.
Your gift is tax-deductible as allowed by U.S. law.