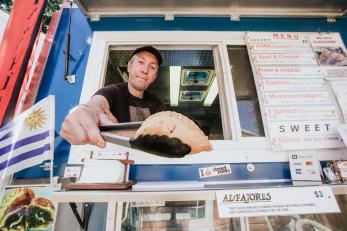 This past year tested and challenged us as wildfires, social distancing, and a global pandemic affected all of our lives. Yet, despite these challenges, we have also seen the incredible impact we can have by working together.
When you make a gift to Mercy Corps today, you can help us not only address issues like poverty and rising unemployment in countries far across the globe, but we can also help to overcome these same challenges at home in the Pacific Northwest.
Your gift can help us support local small-business like PDX Empanadas, run by Inés Berón and Walter Rodríguez and their son Gerardo who is pictured above, as they worked to overcome the roadblocks they faced after their food truck was rear-ended and badly damaged. With a loan from Mercy Corps, PDX Empanadas converted their garage into a commercial kitchen, allowing them to continue to serve their loyal customers in Portland, Oregon.
Thank you for giving what you can to make a difference in the lives of people who have been hit hardest by crises — here in the Pacific Northwest and in the more than 40 countries where Mercy Corps works around the world. Together, we can help make a better tomorrow possible for all.