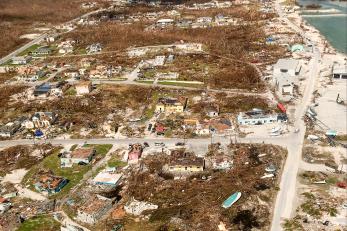 Mercy Corps is responding in the Bahamas following Hurricane Dorian's landfall as one of the most powerful Atlantic hurricanes on record.
Our team has reached the Bahamas and is rushing to help survivors and meet the needs of families and communities affected by this historic storm. Reports continue to come in about the scale of damage, and we are hearing that thousands of homes have been destroyed and entire communities have been devastated.
As we work to meet the most urgent needs, we need your support. Please make an emergency gift today to our Hurricane Dorian Response Fund. Every $1 we receive from generous people like you can help provide more lifesaving aid for people facing disaster.
Your donation will go to the emergency response as you have requested. On rare occasions, the funding needs for an emergency will be fully met and the agency may use your funds for other urgent needs around the world.