Crisis in Sudan: Give now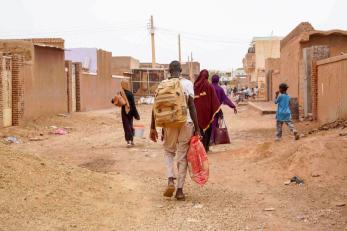 Sudan is facing renewed violence, displacement, and an unprecedented need for humanitarian aid. The fierce fighting that began on April 15, 2023, has compounded the crisis across the country. We see the prices of food, fuel, water, and other essentials skyrocketing, as fighting continues and humanitarian organizations confront enormous security and operational challenges in responding to community displacement and rapidly escalating needs.
Mercy Corps remains committed to supporting the people of Sudan, and is preparing to meet the urgent needs of the humanitarian crisis that is unfolding. Our focus will be on responding to urgent needs of displaced populations while also continuing our ongoing work assisting farmers so that the upcoming agricultural season is not disrupted.
Mercy Corps helps communities in Sudan and around the world as they prepare for, protect against, and recover from conflict and crisis. Your gift today will support families in 40+ countries where we work as they build toward a bolder, brighter future. Please give today.
86% of our expenses funded program services over the last 5 years.
Learn more
Charity Navigator
BBB
GuideStar
Charity Watch
Over the last five years, we have spent 86% of our resources on programs that help people in need. Charity watchdog groups give us their highest ratings for accountability, transparency and efficiency.
---
Mercy Corps is a 501(c)3 charity.
Your gift is tax-deductible as allowed by U.S. law.
Mercy Corps is a 501(c)3 charity.
Your gift is tax-deductible as allowed by U.S. law.