COVID-19: Help protect communities most at risk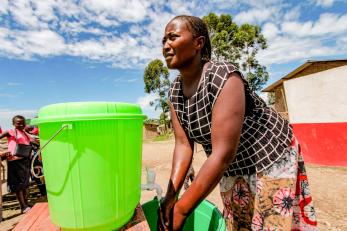 As higher-income countries inch closer to vaccinating the majority of their populations, the catastrophic surge in COVID-19 infections in eastern African countries is a sobering reminder that we are nowhere near eradicating this global threat. Mercy Corps is working in places like DR Congo, Somalia, and Uganda with communities where positive COVID-19 cases are rising at an alarming rate.
Your gift today to Mercy Corps' COVID-19 Resilience Fund can help provide urgently needed relief including emergency cash, hygiene education and supplies, clean water, and long-term support to families and communities in places like Uganda, Nepal, Somalia, and around the world.
Mercy Corps teams are already on the ground where help is most needed. We work in more than 40 countries to help people and communities prepare for, protect against and recover from crisis. Last year, Mercy Corps reached nearly 37 million people around the world with lifesaving and life-changing assistance. Donations to the COVID-19 Resilience Fund will be used where most needed to support Mercy Corps' work providing assistance to communities facing crisis, including vulnerable people affected by COVID-19.
86% of our expenses funded program services over the last 5 years.
Learn more
Charity Navigator
BBB
GuideStar
Charity Watch
Over the last five years, we have spent 86% of our resources on programs that help people in need. Charity watchdog groups give us their highest ratings for accountability, transparency and efficiency.
---
Mercy Corps is a 501(c)3 charity.
Your gift is tax-deductible as allowed by U.S. law.
Mercy Corps is a 501(c)3 charity.
Your gift is tax-deductible as allowed by U.S. law.