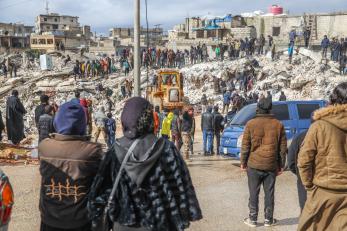 On February 6, 2023, a 7.8 magnitude earthquake struck Northwest Syria, including Idlib, where Mercy Corps currently works. Our colleagues in Northwest Syria report that the situation is catastrophic, with the area affected by the earthquake being the center for over 1.8 million displaced Syrians who were already suffering after a decade of conflict.
Mercy Corps is responding to this crisis, rapidly assessing needs and providing emergency water, sanitation, and hygiene activities, working to deliver essential supplies to communities affected by the earthquake.
Mercy Corps helps communities in Syria and around the world as they prepare for, protect against, and recover from conflict and crisis. Your gift today will support families in 40+ countries where we work as they build toward a bolder, brighter future. Please give today.