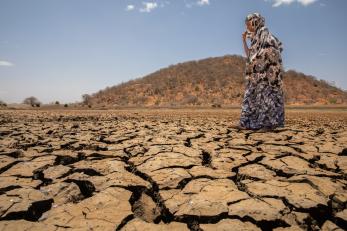 For decades, global leaders and scientists have issued warning bells about climate change. Many of their calls have gone unheard, but that hasn't stopped temperatures from warming and heatwaves, storms, floods, and droughts from occurring more frequently, often with disastrous effects for people living in poorer countries with fewer social safety nets and resources to cope.
Without urgent action, approximately 200 million people could require international humanitarian assistance for climate-related disasters by 2050, roughly doubling the number of those in need due to climate shocks today. Current estimates also predict that between 2030 and 2050, an additional 250,000 people will be killed each year by climate-driven malnutrition, malaria, heat stress, and other impacts.
Mercy Corps urges Congress and the Biden-Harris Administration to put bold solutions into action in countries most affected by climate change's effects, including parts of the Horn of Africa that are experiencing their driest conditions and hottest temperatures in 40 years. Today, more than 14 million people across Somalia, Kenya, and Ethiopia are facing life-threatening hunger after three failed rainy seasons and a devastating drought.
Take action: Urge your Members of Congress to make addressing the climate crisis an urgent priority and fund programs to help ensure that those most vulnerable to climate change's effects receive the resources they need to cope, adapt, and thrive.
Here is the letter we'll send to Congress on your behalf: